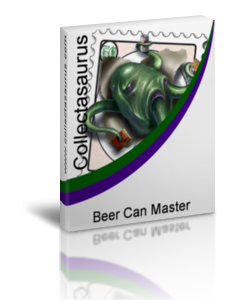 Collectasaurus :: Beer Can and Breweriana Master::
BEER CAN's to the EXTREME!
will manage and visualize World Wide Beer Can Collections and Breweriana...
Benefits:
Know Everything about your can collection.
Organize what cans you want and need. (Wish List Manager)
Manage all images in one place (Image Manager)
Know quickly which cans are due for replacement.
Find approximate value for your whole collection.
Save and print data for insurance reasons
Add even more FUN to can collecting!!!!  :)
Features:
Track all types of Beer Cans: Flat Tops, Cone Tops, Pull Tabs, Gallons, etc.
Track all your Breweriana: Bottles, Labels, Caps, Openers, Trays, and much more...
Charts to visualize all Can Data. (Pie, Bar, and more)
Gauge View of collection totals.
Advanced Grid and Layout View for easy searching, sorting, and grouping. 
Collectasense™ - Internal Can knowledge base gives tips when adding cans.
Image Manager for can photo organization (and basic editing).
Wish List Manager for organizing the Cans you Want!
Wish List document editor.
Up to 8 images associated per can.
Technical Details:
Built with Rust/Actix on the backend, Vue/Quasar on the frontend and a PostgreSQL Database.